Minecraft is an incredibly popular game, so it's no surprise you're looking for a related freebie. Since the first look at the universe of blocks in 2009, the game has become an absolute cultural phenomenon.
Minecraft gives players the freedom to experience the game however they want, whether it's slaying an Ender Dragon or meticulously recreating their favorite fantasy land. Just like in-game variation, there are a ton of gifts for every type of Minecraft fan, and we've found the best Minecraft gifts.
Minecraft Gift Guide
1. Build-a-Level Mug
We're going to start this list off with a gift that everyone will love, and that's a Minecraft coffee mug.
With this buildable mug, you have the opportunity to be inventive just like you would in the game itself. The mug design features a blank 2D Minecraft frame and comes with four reusable sticker sheets, with options ranging from zombies to wooden doors.
2. Minecraft Buildable Light Blocks
Another gift that epitomizes the creativity of Minecraft is this buildable light block. The lamp includes 16 Minecraft blocks, including TNT, diamond, grass, etc.
The base resembles a bedrock to really bring home the Minecraft feel. This fun Minecraft light can be styled however the owner wishes and pairs smartly with those crafting items that Minecraft is known for.
3. Minecraft Tee
Let the Minecraft fan in your life show off their world-building pride with a themed t-shirt. Although there are several different options when it comes to shirts, this style takes the cake.
This Minecraft sprites character t-shirt is super cute and shows off a bunch of characters, animals and monsters from the game, including a skeleton, a fox and even Steve. The shirt can be found in sizes 3T to 14/15.
4. Minecraft Card Game
This Minecraft-themed game from Mojang Studios and Mattel Games is an addictive card game that can be played with two to four players and is perfect for anyone aged eight and up.
The objective of the Minecraft card game is simple: "mine" resources and use them to reach the game's point goal. The first player to reach this goal wins.
The game comes with 100 cards and four card holders. The cards are divided into two groups, which include resource cards, like iron and Creepers, and crafting cards.
Sale
5. Enderman Plush
Everyone loves a cute plush character, especially if it's a creepy being from Minecraft. This iconic enemy looks far less threatening than a squishy plush character.
The plush features the Enderman's long, lanky legs and arms, with a mouthless face and adorable slit eyes that you almost feel safe with. It really is a perfect likeness in a soft, cotton-filled form.
6. Minecraft Tool
There's no better gift than a tool or weapon that looks like it's been pulled straight from the Minecraft universe. There are several options to choose from, but our favorites are the Diamond Sword, Diamond Pickaxe, and Enchanted Bow and Potion-Tipped Arrow.
These replicas are great to play with, make an amazing addition to a Minecraft themed costume, or just look amazing as a collectible. As a bonus, the bow is actually functional and can shoot the arrow up to 20 feet.
7. Minecraft Builders & Biomes Board Game
This is probably the best Minecraft-based tabletop game currently available. It's a more complex board game for anyone ages 10 and up, but it's still fairly easy to master.
This strategy can be played with up to four people as you explore the Overworld and create new structures on your way to victory. You can even mine physical wooden bricks as you go. Extensions are also available to keep the fun going.
8. Minecraft Lamp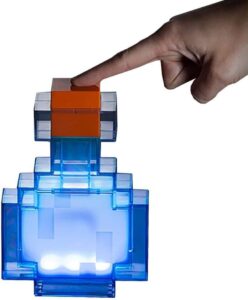 These Minecraft lamps look like the ones you pulled straight out of your handy wooden chest. There are many varieties to choose from, our favorites being the classic flashlight and the magic potion bottle light.
The torch has a pulsing light mode for added ambience, and the potion bottle is an LED light with eight changing colors. They are perfect as night lights or can be hung on the wall as a decorative light piece.
9. Minecraft Build-a-Level Magnet Set
Unleash your Minecraft imagination with this awesome set of buildable fridge magnets. It includes various characters, enemies, items, and badges, including an Enderman, a TNT block, and, of course, Steve.
The set contains 80 pieces in total. With this set, the Minecraft fan in your life can create scene after scene on any magnetic surface.
10. Minecraft Animation Studio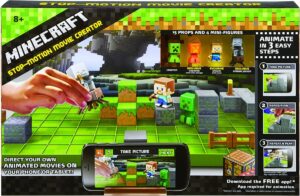 This beautiful studio set lets you create your very own Minecraft movie in glorious stop-motion animation. It comes with over 15 accessories and four minifigures that you can use to develop poignant and fun stories.
Minifigures include a creeper, battle damage creeper, spider jockey and Steve. It combines with a free app that lets you create exciting short films on your mobile device. The kit also includes six backgrounds, a movie scene, and a device stand.
11. Enderman Gifts Sherpa Blanket
Everyone loves a nice warm blanket to snuggle up in, and of course there are some Minecraft themed ones. It's arguably one of the best around, as it features two weird but adorable Enderman as they prepare for the Christmas season.
The front features an adorably goofy design on a super soft mink-like fabric, and the back is a tan sherpa material. The Minecraft fan in your life can comfortably snuggle up with this blanket while they mine and build all night long.
Buy in the official store
12. Lego Minecraft set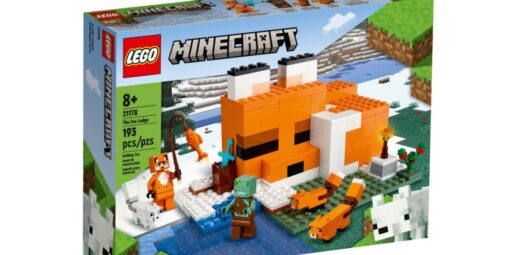 Lego is basically just actual Minecraft, so it makes perfect sense that the video game is featured in multiple sets. While there are various Minecraft Lego sets to choose from, our favorites are The Fox Lodge, The Pig House, and The Llama Village.
Each set includes its own unique pieces from the Minecraft universe, including foxes, zombies, pigs, creepers and llamas. Each set is a different size, with The Fox Lodge being the smallest at 193 pieces and The Llama village being the largest at 1252 pieces.
Buy in the official store
13. Minecraft Turtle Hideout Playset
This large turtle playset resembles the blocky turtles found in the Minecraft universe and makes a great gift for kids. It transforms from a cute sea animal into a multi-level hideout.
The command base comes with a small Steve figure and a small turtle as well. The best part is that this set is made from ocean-bound recycled plastic, so you can save the turtles while playing with them.
Buy in the official store
14. Collectible Minecraft Figures
These Minecraft figures are perfect for any fan of the game you know who also really loves collecting. The pack contains 20 different figures that you can display proudly.
The figure set features memorable characters from Minecraft Dungeons, including an Enderman, Creeper, and Iron Golem. Each figure stands 1.65 inches tall and is made of durable die-cast metal.
15. Customizable Minecraft Figure
Last on the list of best Minecraft gifts is this customizable Minecraft figurine that would make a great gift for the artistic Minecraft fan in your life. The 4-inch figure has a scratch-resistant vinyl surface with a grid pattern.
The figure comes with a customizable cape and two surprise accessories. Sharpies are the best tool to bring your creation to life.
READ NEXT: 15 Best Xbox Gifts and Accessories for Christmas 2022
Some of the coverage you find on Cultured Vultures contains affiliate links, which provide us with small commissions based on purchases made while visiting our site. We cover gaming news, movie reviews, wrestling and more.