Minecraft is one of the most popular video games right now, and will be for many years to come. Now, some people might not know this, but the game is available for Windows 11 and works as expected. And rightly so, because at its core Windows 11 isn't a big departure from Windows 10. Bedrock Edition is a rewrite of Minecraft from scratch.
How to update Minecraft on Windows PC?
Updating Minecraft Bedrock Edition on Windows 11/10 is easier than you think. The information below will allow you to do this job, so read carefully.
1]Open Microsoft Store
To get started, you need to launch the Microsoft Store on your Windows 11/10 computer.
To do this, click on the Microsoft Store icon located in your taskbar. If you don't see it on the Taskbarwe suggest that you click on the Start Menu > All Appsthen scroll down until it appears.
2]Visit the Library area
After opening the Microsoft Store, the next step to take here is to visit the Library region. You can do this by clicking on the corresponding icon at the bottom of the left pane. This section will present a list of all the apps and games you have downloaded from the Microsoft Store.
3]Update Minecraft
The next thing you'll want to do after opening the Library area is to click on the Get updates button. Once done, the system will search for all available updates and then download and install them automatically.
Enable Auto-Update for Minecraft Bedrock Edition on Windows 11/10
Here's the thing, you don't need to manually update your games every time. You have the option to configure the Microsoft Store to automatically update apps and games whenever updates are available. Automatic update should be enabled by default, but if that's not the case for you, let us explain how to do it.
1]Open the Microsoft Store again
Yes, you will need to turn on the Microsoft Store one more time. As shown above, please click the icon on the taskbar to launch it immediately.
2]Select profile icon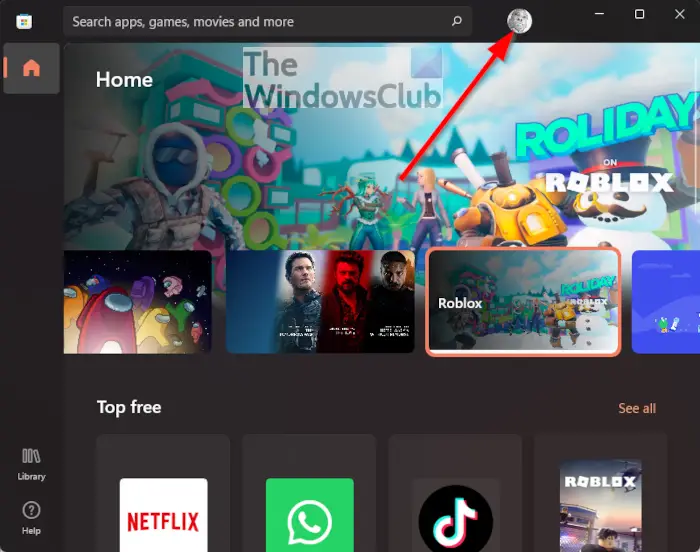 To continue, you must click on the profile icon at the top right part of the Microsoft Store. This should reveal a drop-down menu with a few options to choose from.
3]Enable app updates feature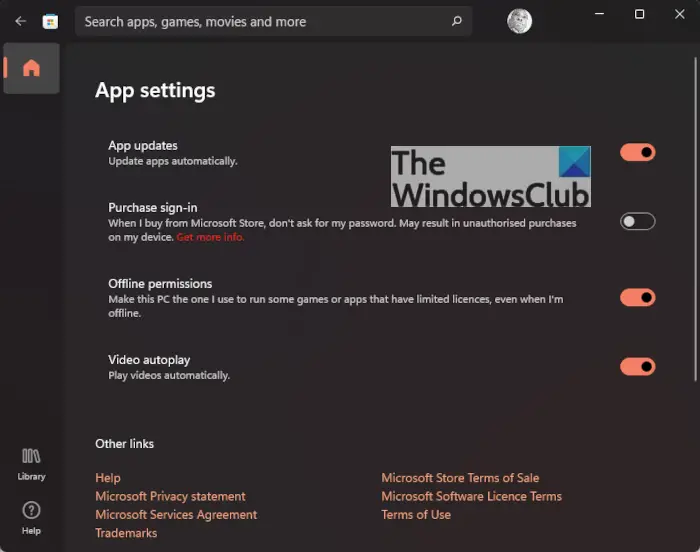 The last thing you want to do, then, is click App settings and from there turn on App updates if it is turned off in the first place. That should be enough to move things in the right direction for you.
What are the different versions of Minecraft?
Note that Minecraft is currently available in two versions, and these are Java and Bedrock. Java is the original, while Bedrock appeared years after the developer, Mojang, was acquired by Microsoft.
What is Minecraft Java Edition?
This version was originally released in 2009. From what we understand, this version was called Minecraft at first, but currently the name has changed to Minecraft: Java Edition from September 2017.
As the name suggests, this version of the game was built using Java and only works on PC. We believe that one day it will be discontinued.
What is Minecraft Bedrock Edition?
On September 20, 2017, Microsoft released Minecraft: Bedrock Edition for mobile, Xbox consoles and Windows 10. This version of the game is based on Minecraft: Pocket Edition which was released to gamers in 2011. What we have here is a rewrite of Minecraft from the ground up. It comes with several fundamental changes that improve the old version.
Read: How to play cross-platform Minecraft between PC and Xbox.